MDR, SOC, EDR, XDR, SOAR and SIEM, what does it all mean?
In cyber-security, we're notorious for using an abundance of two, three and even four-word acronyms. If you're new to the space, these can be confusing, to say the least. To make things a little easier, we've created this guide! It explains some of the most important terms in the field of incident detection and response, a key area for securing digital corporate assets.
Read on to discover the answers to these questions:
 

What are EDR and XDR – and what's the difference between them?

 

What are SIEM and SOAR – and how do they complement each other?

 

What's the difference between XDR and SIEM/SOAR?

 

How do all the above terms fit into MDR and SOC?
What is EDR?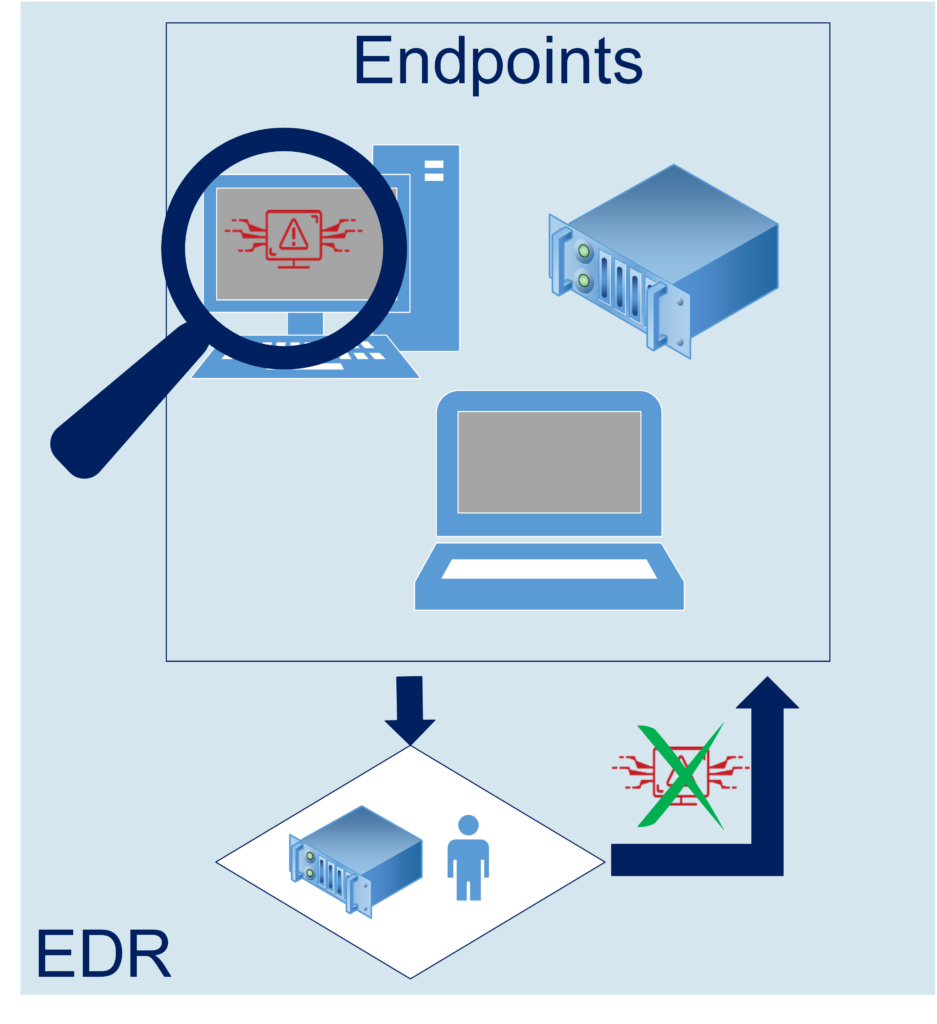 Endpoint detection and response (EDR) is a solution designed to detect and investigate cyber threats on endpoint devices such as PCs, laptops or servers. In contrast to anti-virus software, EDR doesn't just detect cyber threats by scanning files for virus signatures, but also by looking at the behaviour of endpoint devices. When suspicious behaviour is detected, the tool alerts the IT security team and suggests remediation actions. The EDR tool can also provide automated mitigation responses such as endpoint isolation.
EDR includes:
 

Endpoint monitoring and event logging

 

Data search, investigation and threat hunting

 

Suspicious activity detection

 

The ability to suggest remediation actions

 

Automated mitigation response
What is XDR?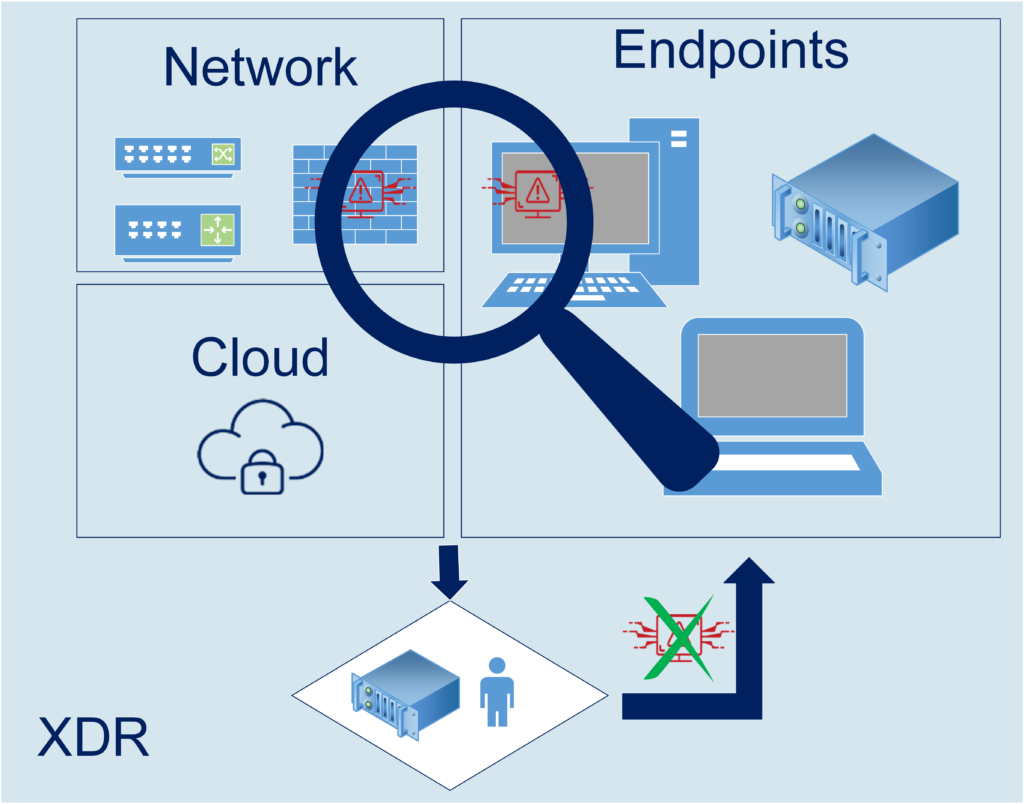 Extended detection and response (XDR) is the evolution of the EDR solution. XDR extends the detection scope beyond endpoints – providing detection, analysis, and response across multiple data sources. XDR collects data and analyses the behaviour of all IT layers and applications. In addition to endpoints, this includes network components and cloud services. This way, XDR creates a holistic view of IT security and possible cyber threats, which simplifies investigation and response activities.
 XDR includes:
 

The monitoring of data sources from different domains

 

Data search, investigation and threat hunting over multiple domains

 

Threat-oriented event analysis

 

Suspicious activity detection

 

The ability to suggest remediation actions

 

Enhanced automated mitigation response
What is a SIEM?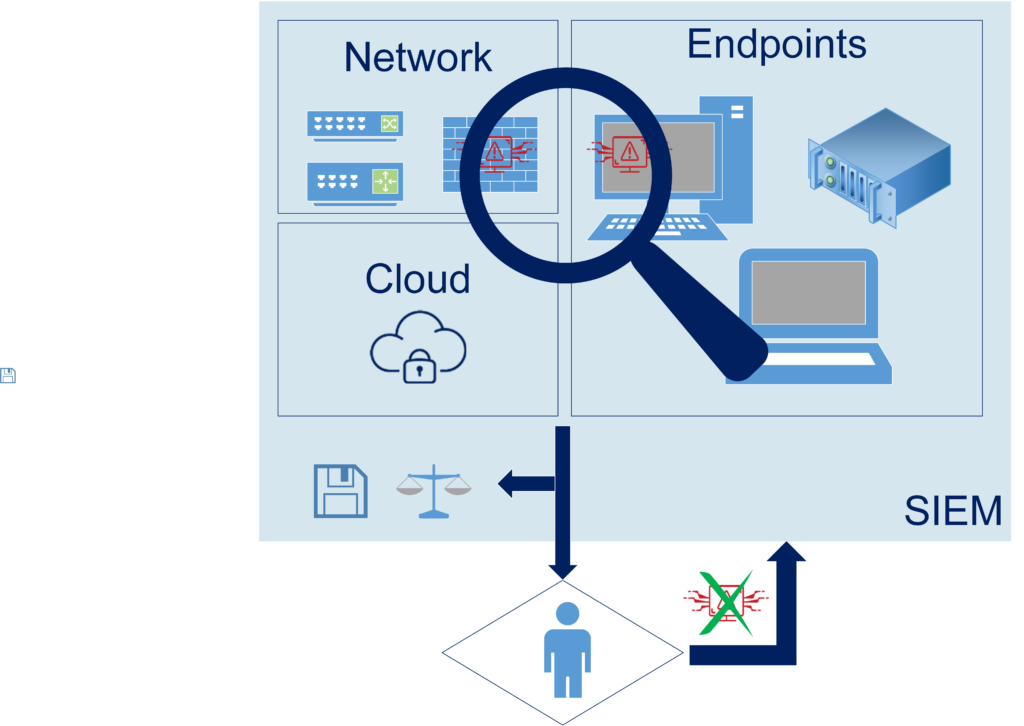 A Security information and event management (SIEM) is a solution that allows organisations to centralise, correlate and analyse data across the IT network to detect security issues. The main capabilities of the SIEM cover log management and centralisation, security event detection, and reporting and search capabilities. It enables analysts to examine log and event data, and also allows them to track and log security data for compliance and audit purposes.
A SIEM solution enables IT security teams to:
 

Collect and correlate log data

 

Use data to identify, categorise, and analyse incidents and events

 

Consolidate multi-domain data in a central platform

 

Generate alerts and reports

 

Support incident response

 

Store log data for compliance and audit purposes
What is SOAR?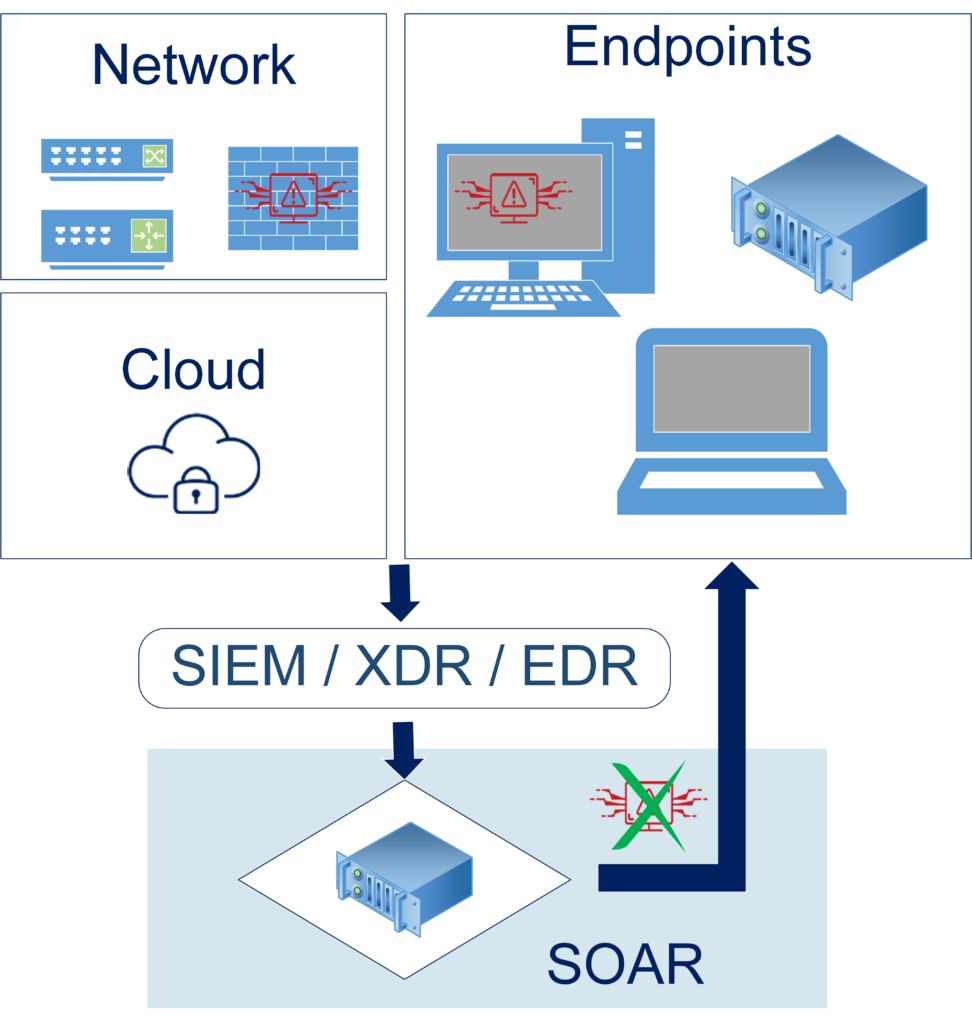 Security orchestration, automation and response (SOAR) is a solution that complements and supports SIEM platforms. SOAR aims to enrich event data, simplify the identification of critical incidents, and automate response actions to specific events or triggers. The aim is to escalate threats only when human intervention is required.
SOAR solutions enable IT security teams to:
 

Collect information about security threats from various sources and make these available centrally

 

Automate their reaction to security threats

 

Minimise human intervention
What's the difference between SIEM and SOAR?
Both solutions collect security information from multiple domains. However, their main functions are quite different. SIEM focuses on analysing collected data, detecting threats and alerting. On the other hand, SOAR focuses on generating automated responses to information collected. SIEM solutions are very good at detecting cyber-attacks, but they require manual intervention by security analysts to defend against them. SOAR can work much more independently. 
What's the difference between XDR and SIEM/SOAR?
SIEM collects, aggregates, analyses and stores large amounts of log data from various domains. This allows security teams to apply different use cases to the data – including using it for compliance and audit purposes. SIEM solutions require a lot of implementation effort and fine-tuning. They can alert analysts, but don't include automated response actions.  
By contrast, XDR integrates a suite of investigation tools, behavioural analytics and automated remediation into a single platform. Its focus is on advanced threat detection and creating tailored responses. It's worth noting that XDR doesn't have the logging, retention or compliance capabilities of a SIEM.
SOAR provides orchestration capabilities that help IT security teams optimise resources and prioritise activities. Typically, the XDR solution has none of these capabilities. 
What is MDR?
Managed detection and response (MDR) is a service that includes security monitoring and analysis, as well as an element of threat response. Although software is important here, the key to a successful MDR service is having highly skilled analysts on board. This is typically the difference between success and failure.
MDR includes:
 

IT security analysts

 

Processes

 

IT security tools

 

Continuous security monitoring

 

Threat hunting

 

Threat and alert prioritisation

 

Security analysis

 

Security response actions
What is a SOC?
The security operations centre (SOC) is a central control centre designed to protect organisations' IT infrastructure. The SOC is responsible for monitoring security-relevant systems. It also analyses and qualifies threats, as well as initialising and supporting incident response actions. SOC analysts typically work together with cyber-security experts from other areas in coordinated processes using specialised tools.
A typical SOC includes:
 

A central control centre

 

IT security analysts

 

Processes

 

IT security tools

 

Various IT security services
The bottom line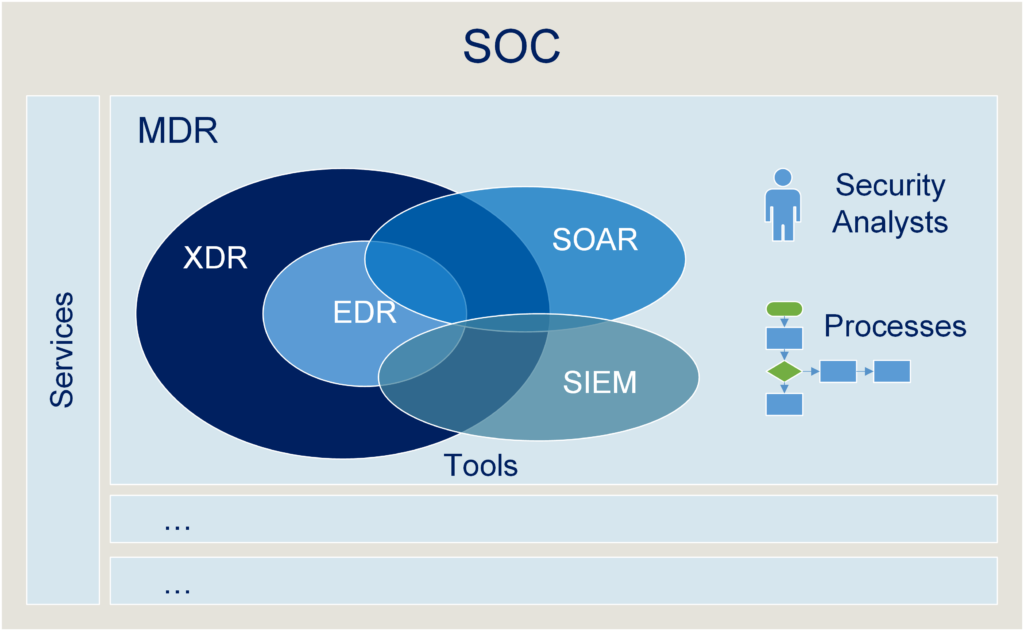 Of course, the above definitions aren't cut-and-dried. Their features can vary slightly based on different managed security service providers. Often, we see that the tools (EDR, XDR, SIEM, SOAR) have some overlapping features and functionality. But regardless, they need specialised experts to operate them to ensure reliable, efficient results.
Want to learn more about Airbus Protect's incident detection and response services? We're here to talk.